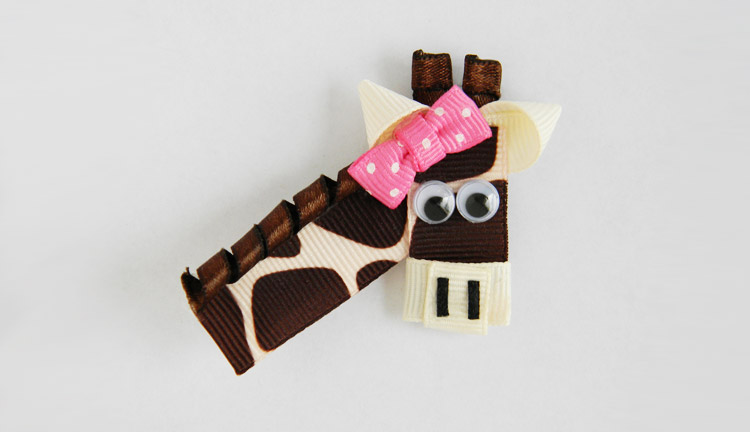 Giraffe Hair Clip
Tame her tresses with this adorable giraffe hair clip! This versatile and easy-to-wear accessory is just the hairpiece she will love wearing with her casual outfits and dressy ensembles.
Just pop this accessory in her soft wispy strands and she's ready to go! Whether she's running around on the playground, taking a stroll in the park or enjoying a lazy afternoon at home, the sweetheart you love will look precious as can be in a playful hairpiece like this one. Punch up a plain ponytail or half-up hairstyle with this giraffe hair clip.
We'll show you how to turn 16 assorted pieces of brown, pink, ivory and black ribbon along with a pair of wiggle eyes into a cute clip she'll love wearing with everything! With a couple of clothes pins, an alligator clip, a bit of glue and some help from the heat in the oven, you'll see just how to fold and loop the ribbons perfectly together. This cute giraffe even sports her own pink polka dot bow-tie bow!
When you use our essential course, you will be making beautiful boutique-quality hairpieces to go with every outfit in her wardrobe. Leave behind those complex craft techniques that only confuse and frustrate you. We've made our methods simple enough for everyone to learn how to create cute and stylish hair accessories without the hassle of mastering difficult skills. Our valuable tips and helpful advice will show you exactly what to do.
Go on and present the one you adore with a clip made especially for her! Just take a look at our helpful videos and choose the pace that's comfortable for you. Using hundreds of illustrated photos alongside clear step-by-step directions, our indispensable e-book will guide you through our clip-making process.
Embrace your creative side and learn the secrets to making stylish hair accessories that give every outfit in her closet a little extra pizzazz. Order our essential course now and find out how to re-create this whimsical giraffe hair clip and others like it for the sweet girl with a big love for animals.
Giraffe Hair Clip Instructions
Buy the Ultimate 3-Pack Bundle for an amazing low price!
How To Make Hair Bows Revealed & How To Make Hair Clips Vol. 1 & 2
Regular Price $87 Today Only $24.95!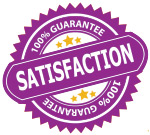 100% Satisfaction Guarantee
We are so sure you will absolutely love our product that we offer a 30 day no questions asked money back guarantee!