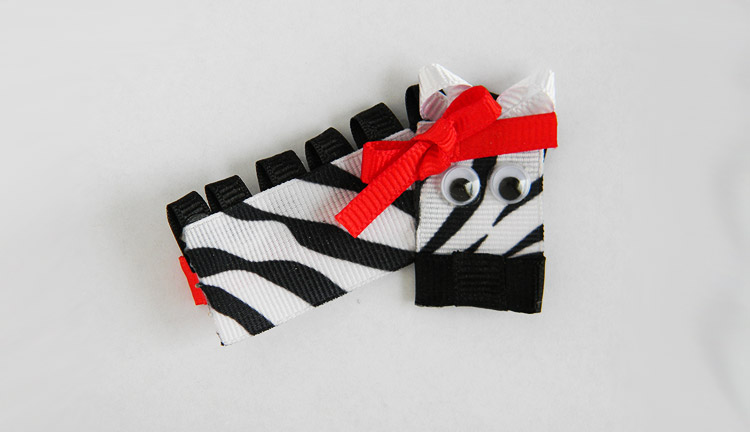 Zebra Hair Clip
This zebra hair clip is cute as can be! Go on and punch up her ordinary outfits with this precious clip that's full of personality. Striped and sweet, she can top off just about any ensemble with this hair accessory.
Darling locks are sure to stay pretty with this zebra clip in her hair. Whether she's running around on the playground, designing masterpieces with sidewalk chalk or spending the day hanging out at home, the little princess you treasure will love wearing this creative clip in her strands.
With 16 pieces of assorted black, white and red ribbon along with a cute pair of wiggle eyes, you'll see just how simple it is to turn your craft materials into something precious. Sitting on top of an alligator clip, we'll show you how to loop and fold the fabric just so in order to make this inventive hair clip absolutely perfect. Add a bit of glue here and there and she'll be ready to wear it to her next play date. This dazzling zebra even sports her own red shoestring bow!
Once you use our instructional course, it won't be long before you're making a boutique-quality hairpiece to go with all of the outfits in her closet. There's no need to feel frustrated with complex craft techniques. We've giving you the valuable tips and helpful advice you need to make the pretty hair accessories she will adore wearing with everything! With hundreds of beautifully illustrated photos alongside our clear directions, we'll guide you each and every step of the way.
Once you see how easy it is to make this hairpiece, you'll be itching to make more! Just follow our step-by-step videos and indispensable e-book. The little girl you adore will feel so pleased when you present her with a hair clip made especially for her.
Embrace your artistic side and learn the secrets to making stylish hair clips that impress. Order our comprehensive course and find out how to re-create this zebra hair clip and others like it for the sweet one you love.
Zebra Hair Clip Instructions
Buy the Ultimate 3-Pack Bundle for an amazing low price!
How To Make Hair Bows Revealed & How To Make Hair Clips Vol. 1 & 2
Regular Price $87 Today Only $24.95!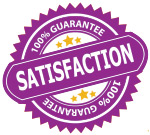 100% Satisfaction Guarantee
We are so sure you will absolutely love our product that we offer a 30 day no questions asked money back guarantee!