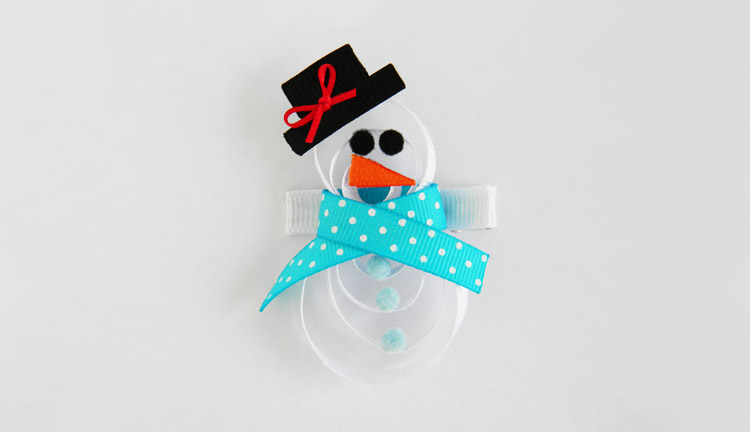 Snowman Hair Clip
This sweet and seasonal snowman hair clip is sure to put a smile on every little girl's face! It's easy to punch up ho-hum ponytails, loose braids and half-up hairstyles with this cute hairpiece. She'll look cute as a button wherever she ventures off to.
Secure her tresses in style with this precious hair accessory. Whether she's enjoying fun celebrations at school with her classmates, decorating at home with the family or attending parades and parties with friends, the winter princess you adore is sure to look darling in this snowman hair clip. Accessorize this piece with her formal dresses or casual everyday outfits.
Taking 14 pieces of white, black, orange and turquoise ribbon along with a few black and light blue pom-poms, you'll be amazed at how simple it is to make this clip for her lovely locks. We'll show you how to cut, fold, loop and glue the fabric materials to make the body, buttons and face of the snowman. He even sports his own classy top hat and polka-dot scarf!
Once you have our instructional course, you'll be making a box full of hair accessories to pair with every outfit in her closet. Leave behind those complex craft techniques that make you feel frustrated and confused. We've made our methods simple enough for everyone to see how to create hair accessories without the hardship of mastering difficult skills. With our helpful tips and quick tricks, we'll guide you along the way at a pace that feels comfortable to you.
Surprise her with a hair clip made especially for her! Using hundreds of beautifully illustrated photos directly beside our clear directions, you'll see exactly how to make these hairpieces with ease in the comfort of your home. When you take a look at our step-by-step videos and informative e-book, it won't be long before you're itching to make more.
Discover the secrets to making beautiful hair accessories that she can't wait to wear with her winter wardrobe. Order our essential course now and find out how to re-create this snazzy snowman for the sweet girl you cherish.
Snowman Hair Clip Instructions
Buy the Ultimate 3-Pack Bundle for an amazing low price!
How To Make Hair Bows Revealed & How To Make Hair Clips Vol. 1 & 2
Regular Price $87 Today Only $24.95!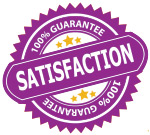 100% Satisfaction Guarantee
We are so sure you will absolutely love our product that we offer a 30 day no questions asked money back guarantee!