How to Make a Bow Out of Ribbon
Hair bows are HOT! Whether you're interested in making hair bows for your own little girl, as gifts for friends and family, or to sell in an Etsy shop or local craft show, learning how to make a bow out of ribbon is fun and easy. The materials you need can be as simple as ribbon alone, or can range from basics such as needle and thread and glue to a collection of buttons and other embellishments.
Begin by gathering up materials and ideas. Then try some of the styles described below. Don't be afraid to experiment if an idea occurs to you. That's what creativity is all about!
For a more attractive and durable bow, it's recommended that you seal the ends of the ribbon. You can use Fray Check on many ribbons, but it leaves an unsightly film on sheer organza ribbon. The other two most common methods of sealing ribbon ends are to melt the edges with either a lighter or a woodburning tool. Before making bows, you may want to practice your edge sealing with some pieces of scrap ribbon.
How to Make A Bow Out of Ribbon: Tiny Baby Bow
It only takes 6 inches of narrow ribbon to make these tiny bows. Loosely tie a bow in the center of the ribbon (it may take several tries to get the bow centered on the ribbon). When satisfied with the positioning, pull the bow tight. And don't worry if baby has no hair to attach a barrette to–a drop of ky-jelly or Elmer's glue (water soluble) will hold the bow in place until bath time.
How to Make a Bow Out of Ribbon: Corkscrew Bow
A corkscrew bow can feature one or several colors/prints of ribbon. And the technique for making them is easy and fun. You will need 1/4 inch dowels cut to about 15 inches long, wooden clip-type clothespins, and a foil-lined cookie sheet. Wrap the ribbon around the dowel and fasten in place with a clothespin. Bake at 275 F for about 1/2 hour.
How wide do you want your bow to be? Add about 1/2 inch and cut 30 pieces of ribbon to that length. Now choose how you will secure the ribbons-tied with elastic or sewn? To tie with elastic, wrap a length of elastic around the center of the stack and tie securely. To sew, stab needle through center of stack (but don't pull needle through yet.)
While stack is on needle, use your other hand to arrange corkscrews evenly. Now pull needle through and with a thimble push needle back down through stack. Take one more stitch to secure. Now sew your bow to a barrette or hair tie.
How to Make a Bow Out of Ribbon: Bow Tie Style
Once you've determined the width of your bow, double that and add an inch. Overlap the ends by about an inch, and take a single stitch through the center of the loop. Now pinch the center of the bow, accordion-style, and wrap thread around several times to secure. Finish as desired.
How to Make a Bow Out of Ribbon: Flower Petal Style
You will need about 15 inches of wide ribbon and a small button or embellishment. Cut 5 pieces of ribbon 3″ long. Fold each piece into a triangle and secure with a thin dot of glue. Gather the base of the triangle. Do not cut thread. Add base of next. Repeat around, joining last triangle to first. Cover center or flower with button or embellishment.
How to Make a Bow Out of Ribbon: Yo-yo Flower
You will need 18-24 inches of ribbon. Take a series of running stitches along one edge of the ribbon, then pull tightly to gather into the yo-yo shape. You can stack several yo-yos to add body to the bow. Finish with a button or embellishment in the center. Sew to barrette or hair tie.
How to Make a Bow Out of Ribbon: Double Bow
You will need 2 pieces of ribbon–2 feet of a main color, and 10 inches of a contrast color. You will also need glue, needle and thread. And you may want a button or other embellishment for the center of your bow. Lay main color ribbon wrong side up, and fold it into a figure eight. Overlap ends and glue them. Now bring needle and thread up through center of the x where ribbons cross. Bring top loop down and stitch through center of top loop (2 loops made). Repeat with bottom loop (2 more loops made. Pinch center accordion-style, and wrap thread around several times, then stitch to secure. Make a single loop with contrast color. Stitch through x, then through center of loop. Pinch center, pleat and secure like the double one. Sew small bow over large. Embellish and finish as desired.
How to Make a Bow Out of Ribbon: Stacked Loops
For each stack, you will need 20-24 inches of ribbon. Evenly fold into a series of loops (think ribbon candy). Run needle through center of stack. With needle in place, use one hand to pinch stack to keep in place on needle. With other hand, pull loops outward until you have a circle of loops. Finish stitching center to secure. For added fulness, sew several stacks together.
How to Make a Bow Out of Ribbon: Puffy Loops
This bow is especially pretty with sheer puffy ribbon. You will need about 3 feet of ribbon. Wrap a loop around your thumb. If necessary, twist ribbon to keep right side facing out. Now make another loop in the opposite direction. Repeat, working back and forth until all ribbon is looped. Now bring needle and thread through center of bow and take several stitches to secure. Fluff and arrange loops. Finish as desired.
How to Make a Bow Out of Ribbon: Tips and Tricks
Do you admire the neat knows at the center of other people's bows? Chances are, that knot wasn't tied with the bow. By adding the knot after the bow is made, you can position the knot to look its best.
Heavy duty hair clips (available from beauty supply stores) are a great way to help secure the bow you're working on. Like another hand!
If making bows for tiny babies, be sure embellishments are securely fastened so they don't chew them off and choke on them!
Once you learn how to make a bow out of ribbon, you'll think of dozens of variations on these basics. Have fun!
Newsletter Sign-Up
Sign up for our newsletter and get the latest news, promotions, product info and more!

Valerie Longhurst, Instructor
I simply adore crafts and love teaching others how to make hair bows!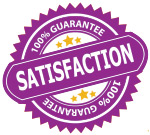 100% Satisfaction Guarantee
We are so sure you will absolutely love our product that we offer a 30 day no questions asked money back guarantee!