How To Make Bows Out Of Ribbon
Ribbon hair bows add a lovely accent for fun or dressy occasions. Little girls love them, and so do their big sisters. And even grown-ups can accessorize with elegant bows to suit a variety of hairstyles, special occasions and outfits. Bows even look charming on babies. It's easy to learn how to make bows out of ribbon, even if you aren't an experienced crafter.
Hair bows can be made from many materials, including leather and lace. But ribbon is easy to work with and comes in a variety of widths, textures and colors. To learn how to make bows out of ribbon, all you'll need are a roll of your favorite ribbon, sharp scissors, and a glue gun.
To begin, choose ribbon that's fairly wide. Narrow ribbon makes a thin bow and, when the bow is "scrunched" in the middle, is difficult to tie and seal. Ribbon is available in many textures, so choose one that's smooth and flat. To make a double bow or triple bow, select ribbons in compatible or contrasting colors.
For the first step in learning how to make bows out of ribbon, cut ribbon to the desired length. For a basic hair bow, the ribbon should be around a foot in length. Seal both cut ends. The ends can be sealed with craft glue, or by lightly burning them with a cigarette lighter or match. Fold the ribbon, doubling it back on itself so that the entire length is used and the ends are even with the folds.
Now, "scrunch" the bow in the middle, squeezing the edges of the ribbon in tight. Wrap another piece around the middle of the bow and tie it off tightly. Secure it with a drop or two of glue. Trim off any cut ends that extend beyond the edges of the bow. You can cut them at an angle, nick them in a V to add interest or leave trailing or frayed ends. Add a few jewels or glitter for a "princess" look. Whatever look you prefer, seal the cut ends with glue or heat to keep them from fraying.
How to Make Bows out of Ribbon: Layering Bows
If one bow looks good, how about a double bow? Or maybe even a triple bow? If you know the basics of how to make bows out of ribbon, layering bows can create new and interesting looks. Start with a basic bow. Choose another length of ribbon, slightly shorter, in a contrasting or compatible color. Fold and tie another bow. Place it on top of the first one and secure it with glue. Add a tie around both bows, or add buttons, jewels or other detailing. For a third bow, repeat the process.
Ribbon bows can be pressed flat, or the folds can be spread apart for a more vibrant look. Ribbon hair bows can be used in various ways: attached to clips, sewn to headbands, or glued to combs. They can also be attached to bobby pins or even safety pins for attaching to hairbands, hats or jackets.
How to Make Bows Out Of Ribbon: Explore Gift-Wrapping Ideas
For more inspiration on how to make bows out of ribbon, explore gift-wrapping ideas. Bow styles for packages can be adapted for use in the hair or on clothing, and bow-making patterns are available from craft magazines and in seasonal gift-giving guides.
Alligator clips and other types of hair clips can be purchased at craft stores, or anywhere hair accessories are sold. Simply secure your bow to the clip with craft glue. Or, make a hair band from matching or contrasting ribbon or other materials and stitch or glue your ribbons to it. Most department stores and drugstores sell plastic or metal hair combs, and your ribbon bows can also be glued to these for a sophisticated accessory.
Ribbon bows can be accessorized for special occasions and events. Embellishment makes bows unique. Make them with pastel ribbon and cloth flowers for wedding favors. Add mistletoe berries or other holiday motifs for a Christmas look, or add a bit of candy corn to an orange and black bow for Halloween. Add a heart to a red and pink bow for Valentine's Day. Easter bows can be made from white ribbon dyed with nontoxic Easter egg dyes. Make different bows for every day of the week for a little girl to wear to school.
Learning how to make bows out of ribbon can also be a fun party activity. Party organizers can teach guests how to make bows out of ribbon as gifts or favors. A little girl's party can give partygoers a chance to try new bow ideas, exchange bows as gifts and make presents for family members. Even children too young to learn how to make bows out of ribbon can pick ribbon and other embellishments, and moms and daughters can team up to make bows for special events. Bows can even be made for a little girl's favorite dolls.
Learning how to make bows out of ribbon can also be a lucrative hobby. Make a variety of bows and sell them at craft fairs and online craft markets. Or make custom-order bows for specific requests such as a baby shower, party or event. Craft stores supply an endless array of inexpensive jewels, beads, and charms and dried, fabric and plastic flowers to create an endless variety of ribbon bow looks.
Caring for ribbon bows extends their life. Invest in small plastic bags or jewelry boxes to store your ribbon bows, and lay them flat to preserve their shape and keep the ribbon from wrinkling. Ribbon can also be ironed to restore smoothness.
With inspiration and materials readily available everywhere, learning how to make bows out of ribbon opens doors to fun, friendship – and even a few extra dollars.
Newsletter Sign-Up
Sign up for our newsletter and get the latest news, promotions, product info and more!

Valerie Longhurst, Instructor
I simply adore crafts and love teaching others how to make hair bows!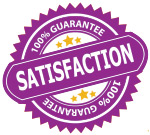 100% Satisfaction Guarantee
We are so sure you will absolutely love our product that we offer a 30 day no questions asked money back guarantee!